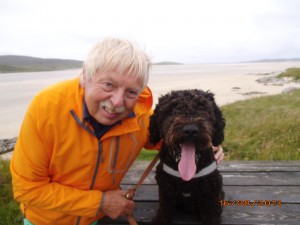 Peter Henderson-Doe has always been connected with the Gastronomie.
His last job in the UK was as F & B Manager at the Randolph Hotel in Oxford.
He has worked and travelled widely in UK and Europe, including stints in
Scotland, Ireland, Austria, Italy and France as well as two years with Seiler
Hotels in Zermatt, Switzerland, where his love for the mountains became an
important factor in his life. Back again in England, but he couldn't settle, so
1972 saw him back on the Continent to be near the mountains he loved.
This time a management position for a well known Swiss Gastronome in
Munich just in time for the Olympic Games. However, he couldn't run fast
enough. The German girls were faster, so he stayed, this time adding another
string to his bow – Squash Trainer –
Life is full of "ups and downs" and you never know what is round the next corner.
In Stuttgart he ran a noble English Night Club which helped him, as a single
parent, to take care of his two children for some time until he met Ursula, his 2nd wife.
At last he had somebody to share his "ups and downs" with. Finally in the eighties he
saw sense and became a teacher, teaching gastronomie subjects and English.
He has had a few, but not very successful attempts, as a hobby freelance journalist
writing for American Paragliding and Skiing Magazines. But he can't be sure they
were ever published. In the eighties he was a pioneer at the start of Paragliding
and considers that he is lucky to have survived. He finally stopped four years ago.
Once again – he couldn't run fast enough. This sport gave him some incredibly
beautiful bird's eye views from Nepal to Norway and on the way he met up with
a great bunch of extroverts. God bless you guys. Especially Miro and Hans-Peter.
Some might say that he has a tick about "fringe sports". Since 2008 he has been
an ardent and active supporter of Racketlon, the 'Iron Man of Racquet Sports'
and travels to the European Tournaments with Chico, his personal trainer, in
his chauffeur driven camper.
Regretably, he didn't take up golf until in his mid-forties when he was working
in Scotland and Ireland. In spite of his limited financial means he has still managed
to play many of the world's top courses.
Some of his more successful retired friends are now driving Z 3's or red Alfa Spiders,
but he has remained true to his student days and is more than happy, when he is
sitting up high and buzzing around the countryside on his new red scooter.